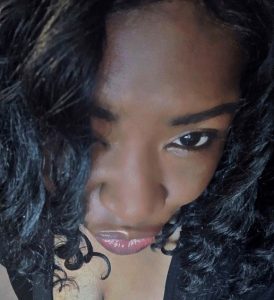 SAMARA KING is the author of seductive contemporary romance and romantic suspense. Writing romance has been woven into Samara's world since her days of sneaking to the back of the library in grade school…of course, at some point, there was studying (usually after the end of a chapter.) When not dreaming up her latest hero who may or may not resemble the likes of Morris Chestnut, Channing Tatum or the latest MUST-HAVE-HIM archetype, Samara can be found jamming out to music, sipping on her favorite drink: cinnamon coffee or if the mood calls for it — because let's get real — often life requires Moscato while watching This Is Us, shopping for plants she cannot kill, and dancing.
She currently writes for multiple publishers, including her own imprint Crave Novellas. Readers can also find Samara's alter-ego, Olivia Alicia Mai, penning historical romance at: http://www.oliviaaliciamai.com.
Previously, Samara cohosted SoundNOff, a poetic format for poets and spoken word artists, and hosted InCharacterN10, a former showcase for authors on Blogtalkradio.com/samaraking. Her well-received poetry collection, The Ebony Kryptonite preceded her poetic EP, Stripped Barefoot, a sultry mix of poetry and spoken word, which went on to reach #20 in Chicago's Top 40 on Reverbnation in September 2013.
Which do I fall in love with first: character or plot? Characters hands down. I think that's one of the best aspects of being a writer is the characters that take over the story and soon after, your sleep."     
"My guilty pleasure…besides a chocolate fetish. I would have to say … dancing barefoot in my living room. There's something very freeing about partying like a rock star in your private domain." 
"Passion, Love, relationships, life such are the elements that surround my stories. Tales born out of a character's wants, needs, aspirations or fears. They simply allow me to join them on their wild ride. Along the journey, I hope to take readers with me.