Welcome to the Scarlet Manor, where your every desire is provided for. Our establishment caters to those who desire what goes bump in the night.
The Scarlet Ties series tells the connection between Deiwalker vampires, humans and Companions.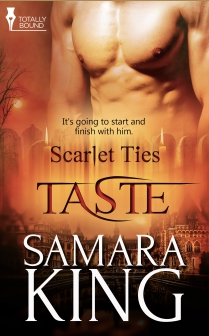 "If you are looking for a steamy book, look no further! The chemistry between the two is unmistakable. The story aside from the sex holds its own."
-BTSe Magazine
A recluse vampire hotelier meets his match with a sexy reporter.
Reporter Ashlyn Douglas always gets what she wants. Her target—an interview with the elusive Rayven brother Cyrus, and to get the goods on the notoriously erotic-themed hotel that only a chosen few are able to visit. Ashlyn won't admit to anyone the instant connection she feels towards Cyrus during her research on him and his twin brother, Coye. She has no intention of starting an affair. She plans to stick to the business at hand and get the truth behind the history of Rayven clan. But is Ashlyn ready for what Cyrus requests of her in return?
Cyrus Rayven isn't a man of many words. His need for communication with the outside world left him the moment his mate, Jordana, died years ago. Though he has his choice of lovers, no woman has moved him since. That is until Ashlyn's shapely curves and wicked tongue makes everything within his cold vampire heart run scalding hot. He'll grant the exclusive interview she seeks, but not before she spends five nights in his bed. Will Cyrus accept the newfound love between them?
More info →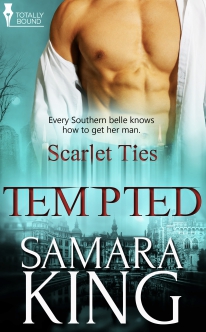 Every Southern belle knows how to get their man, but Noely Lamont ends up seducing the wrong Rayven brother.Future Queen of the Companions, Noely Lamont, has her sights set on Cyrus Rayven, the Deiwalker who vehemently ignores her advances. She wants to bring him down to his knees—but she didn't count on meeting her match in Rayven's twin brother, Coye, or the red-hot passion that he ignites in her body.
Coye Rayven can't be more intrigued by the hellion that has her sights set on his recently engaged brother, Cyrus. He's more than happy to do him the service of taking care of Miss Lamont, though—starting with her lusty appetite that rivals even his. Coye finds himself tempted to claim the beauty as his own. Body and Soul.
More info →
Coming Soon!
Cyrus's and Coye's half-sister, Cynara Rayven has just made her reappearance into brothers' life with a bang. Recently released from imprisonment, Cynara is ready to taste the newfound freedom until she learns conditions of her release include running the Scarlet Manor and bonding with a family she never knew she had. Despite her notorious history as an assassin for the Elders and using her powers as an succubus to make men weak to her sexual hungers, she meets her match when she comes face to face with the man who almost cost her her life, Dreighton Lowell, a hunter whose lust for revenge may cost Cynara her heart as well—if she lets him have it.
Dreighton is a lost soul, hunting is all he's known after a gruesome Vampire attack resulted in his family being murdered. In one night, the man he'd once perished and what remained was the darkened soul that hungered for revenge and seized it in the name of justice, or so he told himself. Cynara's face is one he has never forgotten as she was standing over him the morning after the attack. He vowed from that day on to extract his revenge on her kind, and he'll start by pretending to be an interested investor in the Scarlet Manor. His close interaction with Cynara overwhelmed his body and threatened to melt the cold heart of an assassin.
More info →